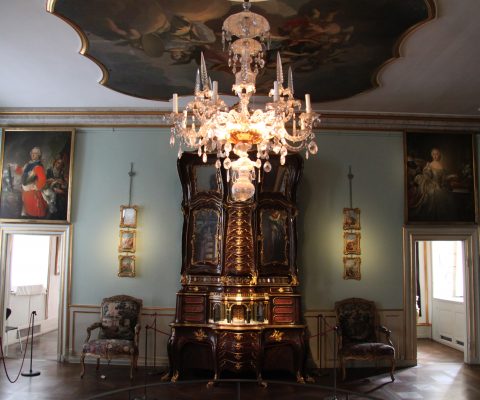 13 The Rose
ROOM 13: The name "The Rose" dates from the time of Frederik IV, when this central antechamber was used as a dining hall for the ladies and gentlemen of the court. The room was later used by The Royal Lottery.
During the restoration in the 19th century, the room's original quadratic shape was recreated. The ceiling paintings and the parquet floor were taken from Frederiksberg Palace. The ceiling paintings were painted by Frederik IV's court painters, Bénoit le Coffre and Hendrik Krock. The chandelier was made in England at the end of the 18th century and was brought from Jægerspris Palace.
The exhibited paintings, furniture and other items in The Rose date from the time of Frederik V in the mid-18th century. During that time, Rococo was the dominant style in European art and handicrafts, which is reflected in many of the exhibits.