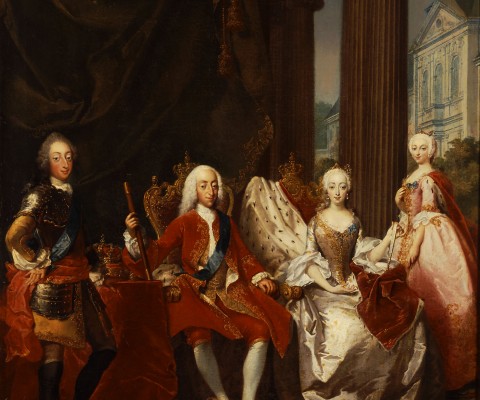 Christian VI and family
Christian VI with his family; Sophie Magdalene, Crown prince Frederik (IV) and Princess Louise.
Oil painting by Marcus Tuscher, c. 1743. The draperies and coloumns in the background symbolizes both power and masculinity whereas the garden view relates female attributes concerning the peace and harmony of both nature as well as of home. The garments worn are all a combination of the lineage colours, gold and red from the House of Oldenburg, and the national colours of Denmark, red and white as seen in the national flag. In the distance the sommerresidence Hirschholm appears as a representation of the many buildings erected by Christian VI. Despite being one of the most industrious builders, sadly, not much is preserved.