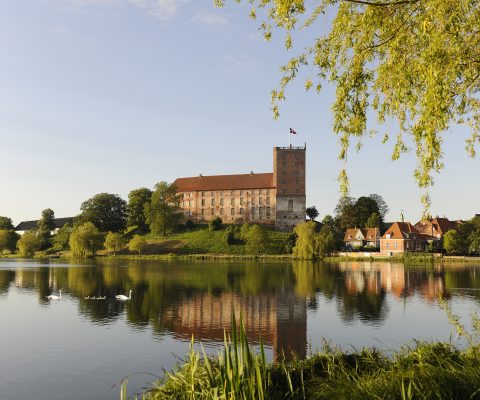 The History of Koldinghus
Koldinghus – from castle to royal palace – from greatness to ruin
Take an exciting tour around the castle with an experienced guide who vividly and enthusiastically tells about the castle's more than 750-year history.
Koldinghus has undergone major changes and upheavals throughout its existence. On the tour around the castle, the guide tells about the first construction on the castle bank, the rebuilding of successive kings and the traces they have left behind. Wars and fires came to characterize the castle until disaster struck in 1808, when the castle burned down. What remained was the ruin, which took on a completely new function in the 19th century, when ruins were perceived as a beautiful and picturesque feature of the cultural landscape. But the castle rose again and faced a new greatness as one of Denmark's large and striking museums.
On the tour, guests enter selected rooms where the history of the castle and the kings is told, just as guests will hear the story of the masons in the large courtyard with the rare and original paving.
A visit to Koldinghus is an important piece of Danish history about a country and a city that has been closely linked in peace and war, occupation and powerlessness, development and reconstruction.