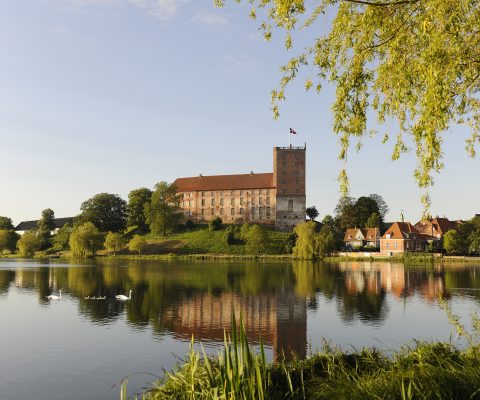 Brief introduction to Koldinghus
Koldinghus was built in 1268 to protect the southern border of the kingdom. For centuries, Koldinghus was one of the most important royal castles in the country.
In 1808, a catastrophic fire broke out at Koldinghus while Spanish soldiers were billeted here, and the castle was left in ruins. Much later, it was rebuilt and restored and now stands as a beautiful historic gem.
The restoration was carried out by the Danish architects Inger and Johannes Exner. The restoration was recognised with the EUROPA NOSTRA award in 1993 and is in itself a world-class attraction.
Since January 2021, Koldinghus has been part of the Royal Danish Collection along with Rosenborg Castle and the Amalienborg Museum.
What is the Royal Danish Collection?
The Royal Danish Collection is the organisation behind the museums at Koldinghus, Amalienborg and Rosenborg.
The three museums are home to essential objects and works of art related to Danish royal history that offer unique insights into the stories about the kings and queens of Denmark – the persons who embody the Danish monarchy.
The Royal Danish Collection annually welcomes 700,000 visitors (in normal, non-pandemic times).
Key sights and attractions at Koldinghus
Important royal cultural heritage items from the Royal Danish Collection
Varying exhibitions
The view from the Giants' Tower
Castle chapel – a popular site for weddings
The Great Hall and the Library Hall
Dungeon
The Royal Dress-Up Workshop
Family activities during all school holidays
Guided tours, concerts, talks and Christmas market