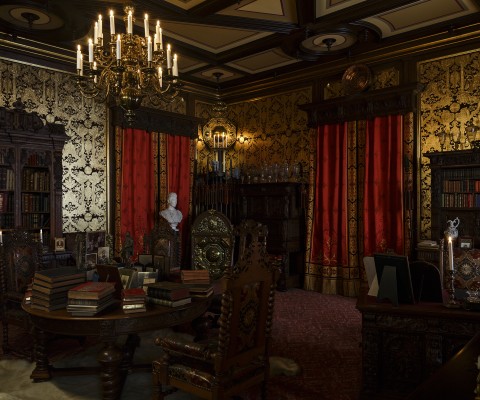 Frederik VIII's study
Frederik VIII's Study was furnished towards the end of the 1860s in the so-called Renaissance Revival style, which was very much in fashion at the time. The room is a comprehensive and coherent example of masculine interior design as it looked at the time. The heavy furniture together with the imitation golden leather on the walls and the coffered ceiling contribute to the, to put it mildly, old-fashioned atmosphere.
The room is characterised by yellow and red, intended to associate to the House of Oldenburg line of the Royal Family, which had a few years earlier died out with Frederik VII. It was important for the newly arrived House of Glücksburg to underline their kinship with the House of Oldenburg, and here they did so through the conscious use of the Oldenburg colours. A statuette of Christian IV, the best known king from the House of Oldenburg, also serves the same end.
Frederik VIII's study is an approximate reconstruction, since many of the objects in the room were given away to friends and members of the family after the King's death in 1912.