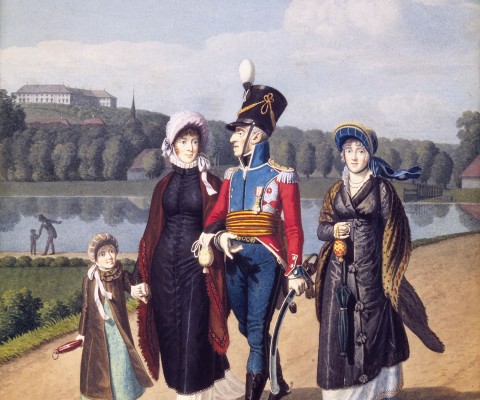 1800-1825
At the beginning of the 19th century, the long peaceful period ended. International relations in connection with the Napoleonic Wars made it difficult for Denmark to stay neutral. First came the British naval attack on Copenhagen in 1801 and six years later, British forces bombarded Copenhagen and captured the Danish navy.
Denmark allied itself with France, which eventually turned out to be the loser in the European war. The war led to State Bankruptcy in Denmark in 1813 and as part of the peace agreement the following year, Denmark had to hand over Norway to Sweden.
Frederik VI was enthroned in 1808. He was popular in spite of the national disaster, and he combined the roles of absolute monarch and bourgeois family head. Family and the intimate also became the focus in art, where the so-called Biedermeier style gained popularity. The early 19th century was also the beginning of the Golden Age of Danish art, represented by the sculptor Bertel Thorvaldsen and the painter C.W. Eckersberg.