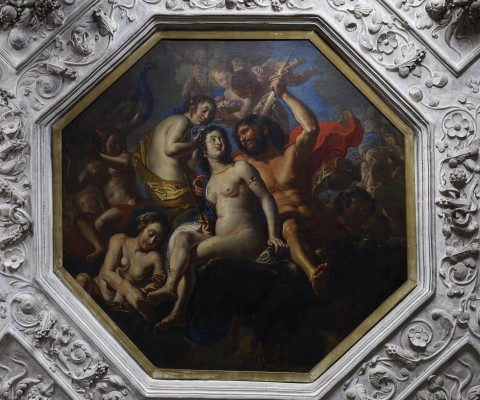 Abraham Wuchters
The dutch painter and engraver Abraham Wuchters was employed by the Academy of Sorø as "sketching master" in 1638. The following year he was summoned to Copenhagen where he executed several portraits of Christian IV. In 1645 he again stayed at Copenhagen Castle painting portraits of the King's children. From 1664 to 1671 he was employed by the court; his duty was the maintenance of the King's paintings.
Especially in the latter part of his life Abraham Wuchters had an unusual career. In 1671 he became Christian V's official portrait painter, he also later became royal engraver. It was, therefore, he alone who decided how the face of the absolutist King was to be represented.
There are several works by Wuchters in Rosenborg; amongst them are portraits of Frederik III and Christian V. Among his paintings in the Castle is a fine ceiling painting in Sophie Amalie's bedchamber, where the absolutist Queen is depicted as Hera, the queen of the Greek gods.