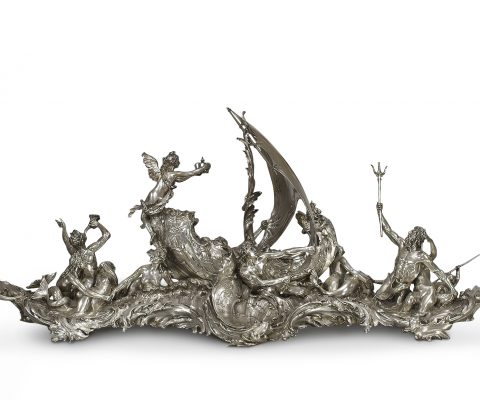 Mar 15 2018 - Feb 24 2019
Dinner with the Royal Family
Dinner with the Royal Family. 15 March – 31 December 2018
The museum in Christian VIII's Palace is presenting a small special exhibition about royal food culture over the last 150 years, which looks back at history and across the European continent.
The Royal Family have in many areas of life set the agenda for fashions which have filtered into society as a whole. The Royal Family themselves looked to courtly circles in other countries for inspiration. This is also the case with food fashions, which have changed over time — not only the food and drink, but also much else about the meal.
Through objects from the Royal House which have a relation to food, the exhibition also touches on themes such as local and global raw ingredients, food culture and menus in everyday life and at festivities, tradition and renewal, table settings, as well as the banquet as a manifestation of diplomatic hospitality and a status symbol of the highest order. At the same time you can gain an impression of the Royal Family's more everyday meals and traditions such as 'vandgrød', a water-based gruel, and 'øllebrød', a porridge made of scraps of rye bread and non-alcoholic beer.
In the meeting with the objects and the story told in the exhibition, you may also be inspired to reflect on your own food culture. In an age in which the meal is gaining more and more importance for us than merely satiation, simultaneously reflecting trends, ideologies and status, it is fascinating to dip into the royal source of inspiration for various aspects of Danish food culture.
In the exhibition you can among other things see the several metres long silver centrepiece which adorned Christian IX and Queen Louise's table settings, historical menus, and a place setting from the New Year Banquet.
Remember to take in the piano nobile after you have seen the special exhibition. Here you can see Christian VIII and Queen Caroline Amalie's Golden Tableau. The gigantic tableau consists of Bertel Thorvaldsen's impressive mythological figures and accompanying centrepieces in gilt bronze. It adorned the royal couple's table settings when they held parties, and the magnificent objects were designed to display the hosts's high cultural status as well as contribute to convivial conversation.
Amalienborg and Rosenborg are taking part in the celebration of the European Year of Cultural Heritage with a range of activities. The organisation European Royal Residences Association, of which we are a member, is focussing this year on the contribution of royal history to food culture, and launching a number of events at castles and palaces across Europe. It is in relation to this that we are immersing ourselves in 450 years of culinary history at both museums. This exhibition is the first event, and will be supplemented in June by activities as Rosenborg. Read more at the homepage of European Royal Residences Association.
Tilbage til oversigt